the ideal choice for testing the integrity of HEPA filters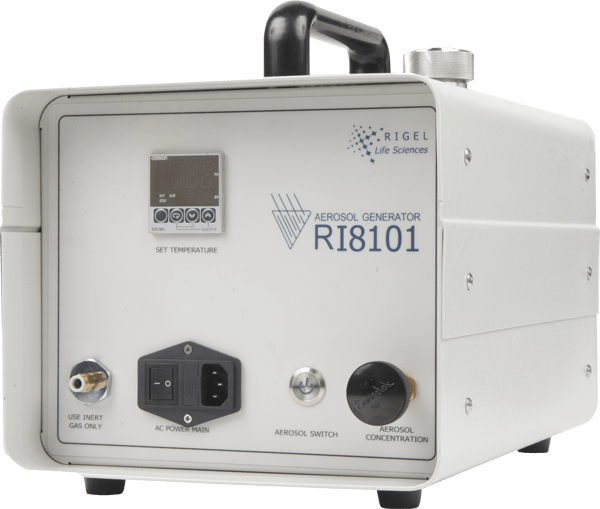 Contact us to learn more about the
RIGEL

8101 Aerosol Generator
The Rigel RI8101 Thermal Aerosol Generator is the best choice to test and validate large areas requiring a consistent range of particulate dispersed in an aerosol concentration; it uses the principle of thermal condensation, using a block heater of superior robustness to produce specific concentrations of vaporized oil.
This unit has a large capacity liquid tank allowing the RI8101 to generate aerosol for up to 5 hours without requiring a refill, generating a wide range of aerosol particulate concentrations by discharging a controlled quantity of oil vapor into a large filtered and vented area.
Our Aerosol Generator incorporates also a digital temperature controller allowing the operator to adjust the unit's operation for the specific aerosol agent being used.
RIGEL RI8101 gives his best in cleanrooms & operating rooms
Aerosol generator produced by condensation of oil vaporised thermally

HEPA filter integrity tests (ISO 14644-3 – Section 3.2.1)

Adjustable between 1,500 and 70,000 cfm [2,550 – 119,000 m³/h] (with internal valve for adjusting pressure of inert service gas)

Manual adjustment:
− 10μg/l @ 70,000 cfm
− 100μg/l @ 7,000 cfm


In accordance with the types indicated in ISO 14644-3 (Section C.6.4):DOP (Dioctyl Phthalate) – PAO (Polyalphaolefin) – DOS (Dioctyl sebacate) –DEHS (di-2-ethylhexyl sebacate) – Shell Ondina EL

Compressed inert service gas

− Type of gas: Nitrogen, Argon, Helium @ Max 5 bar
− Type of coupling: quick coupling
− Safety: internal valve to release pressure > 5 bar


Thermal chamber temperature:

Programmable with thermal regulator (max 450 C) (the temperature to be set depends on the type of oil to be used)

Operating cycle (Duty cycle)

230 V (+- 10%) 50 Hz single-phase 4A

Absorbed electrical power

2 fuses 5×20 mm 250V F10A

Ambient conditions during operation

Temperature from 0°C to + 40°C Relative humidity < 95%

Ambient storage conditions

Temperature from 20°C to + 55°C Relative humidity < 95% not condensing

Operational parameters and performance for Generator filled with oil type: Synfluid ® PAO 4 cSt (*)

− Average diameter of particles generated 0.15 μm – 0.25 μm − Range of diameters of particles Generated 0.05 μm – 2.5 μm

3.45 bar (+-10%) [50 psi(+-10%)]
Learn more about the
RIGEL

8101 Aerosol Generator
Leave your email address, we will write you back